Figuring out where to spend your energy and funds on home improvement projects always comes with a fair amount of stress. What should you prioritize first: painting, updating the appliances, or replacing those icky bathroom tiles?
Planning your home improvement projects can be especially frustrating if you live in a home with so much potential. There are many little tasks that, if completed, will make the home look like a million bucks.
Sure, a contractor could help you sort it all out, but why not consult the stars?
It turns out, the best home improvement project for you to focus on is already written out there in the universe; all you need to do is reference your zodiac sign. Below, our top astrologers break down the DIY project that's best matched to you.
Aries (March 21–April 19): Building and styling bookshelves
Let's be realistic. Busy Aries don't have the attention span to spend all weekend on a remodeling project—they want something that can be done in a few hours. Putting in bookshelves is something that will give the room a refresh and won't take too long to complete.
"Aries prefer home improvement jobs they can finish quickly," explains Skye Alexander, astrologer and author of "Magickal Astrology" and "Planets in Signs." "These energetic folks don't mind tackling physically challenging tasks, so long as they can see the results of their efforts at the end of the day."
Already have a bookshelf? Try styling it by grouping books by color, or adding paint or wallpaper to the back of the shelves.
Taurus (April 20–May 20): Focus on the backyard
For a Taurus, the real question is: Why spruce up the inside of the home when you'll be spending most of your time in your outdoor space, anyway?
"People born under the earth sign Taurus have a strong affinity with Mother Earth," Alexander says. "They want to be surrounded by nature's beauty, so when it comes to making home improvements, a Taurus will focus on their outside living areas first."
Alexander suggests repairing the deck or sprucing up the landscaping with new plants.
Gemini (May 21–June 21): Hang wallpaper on an accent wall
An accent wall of wallpaper as a focal point for the room isn't for everyone, but a Gemini will appreciate the look, says Suzie Kerr Wright, an astrologer and psychic medium at Astrogirl12.com.
"Geminis love color, surprises, and things that appeal to their busy minds," she says. "Boring is not something associated with any Gemini. Their homes would have little surprises here and there like wallpaper to keep them amused."
Cancer (June 22–July 22): Paint the front door
Putting a bright and cheery coat of paint on the front door is the perfect project for a friendly Cancer, Alexander says.
"Cancer is the sign of home and family, and people born under this sign love to entertain," she explains. "The entrance to a Cancer's home is a great, big welcome sign––they'll need a freshly painted front door with handsome hardware, attractive lighting, and colorful planters on the porch."
Leo (July 23–Aug. 22): Fireplace makeover
Photo by Simply Home Decorating
The fireplace is the heart and hearth of the home for a Leo, a fire sign. So if it needs a spruce-up or face-lift, that's where they should start.
"It's important for Leos to have a working fireplace––and the bigger, the better," Alexander says. "Adding an attractive mantel (or refinishing an existing one) or fixing cracked bricks and mortar are all good home improvement projects for these people."
Virgo (Aug. 23–Sept. 22): Add molding or baseboards
Photo by J&L Interiors, LLC
"Meticulous Virgos enjoy attending to all the little details of a home improvement project," Alexander says.That's why those born under this sign may want to initiate their home improvement with a dining room restoration project. "Whether they're repairing a room's baseboards or touching up hairline cracks in a ceiling, they bring a perfectionist's skill and patience to the job," she says.
Libra (Sept. 23–Oct. 22): Organize a closet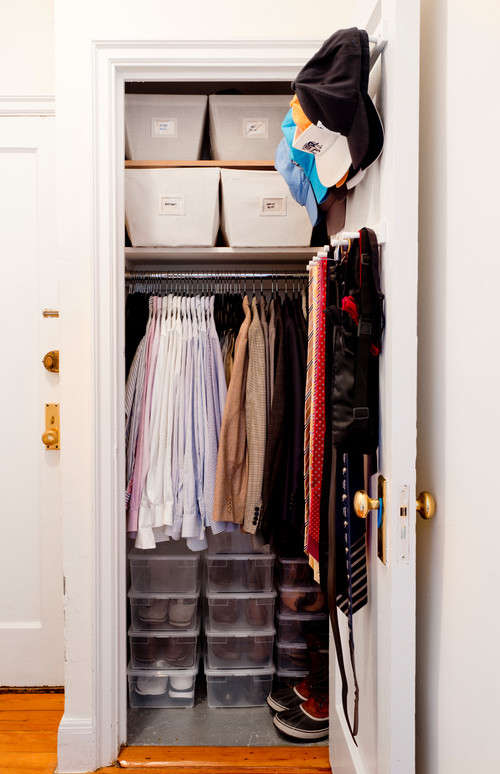 Libras are the most fashion-conscious of the signs, so they'll want an amazing closet space to match their wardrobe, Alexander says.
"Beauty-conscious Libras are known for their fashion sense, but they're also sticklers for orderliness," she says. "When it comes to home updates, they want great closets with plenty of shelves and cubbyholes that let them organize their wardrobes efficiently."
Scorpio (Oct. 23–Nov. 21): Update the bathroom
Photo by Carolyn Reyes
Since Scorpio is a water sign, people born under it take a special interest in their bathrooms.
"Updating an older bathroom with new tile and stylish fixtures will be a priority for a Scorpio, who appreciates both hygiene and aesthetics,"Alexander says.
Sagittarius (Nov. 22–Dec. 21): Install a spice rack
Photo by Mike Smith / Artistic Kitchens
"Sagittarians are fascinated with all things foreign, including food from around the world," says Alexander. That's why having a dedicated space where they can store all their cooking ingredients makes sense.
"They'll want to install plenty of shelving, Lazy Susans, and hanging racks in their kitchens to hold their extensive collections of exotic spices and gadgets."
Capricorn (Dec. 22–Jan. 19): Restore a piece of vintage furniture
Photo by Ecostruct LLC
You'll probably find a Capricorn hunting around at a vintage flea market on the weekend and looking for old treasures they can put their stamp on.
"Capricorns appreciate things that have stood the test of time, and often choose older homes they can furnish with antiques," Alexander says. "They enjoy restoring historic pieces to their original beauty."
Aquarius (Jan. 20–Feb. 18): Switch out old appliances
An Aquarius couldn't stand living in a home with outdated appliances in the kitchen or laundry room.
"Forward-thinking Aquarians are always on the cutting edge––they're the first to update their homes with the latest technology," Alexander says.
"These environmentally conscious people may invest in energy-efficient appliances, thermal windows, perhaps solar panels, or even a wind-powered generator," she adds.
Pisces (Feb. 19–March 20): Put in a window seat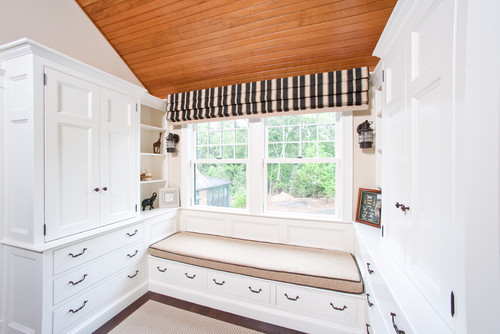 Photo by Horgan Millwork, Inc.
Pisces would take on this project so they could have a dedicated spot for reading and daydreaming.
"Pisces love cozy nooks and places where they can meditate and drift off into fantasy," Wright says. "They have vivid imaginations and can make a simple window seat into a dreamy otherworld."